Services Provided
__________
click on the links
below
---


More sections of the range of our services will be added for you to view in the comfort of your home.

Additions/Remodeling
Kitchen/Bath
Garages/Outbuildings
Window/Door
______________
---
Complete the outer aesthetics of your modular home by adding practical an attractive Landing, Deck or Covered Porch.
Not only will they add in visual value but also add to the investment you made when purchasing your modular home.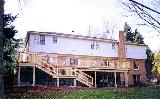 (click above picture to view entire job with
larger images)
Deck material of your choice from .40 Pressure Treated, Cedar & Redwood.
Railing choices of 2x2 (standard) & Turned Colonial
Specialty 'Rising Sun' Railing Deco Option that create a beautiful shadowing effect (UPDATE:recent changes to building code prohibits this design. It can still be incorporated into your railing with minor asthetic changes)
'Tray' Ceiling options for covered porches include Tongue & Groove Pine or Cedar, Painted Aluminum
Built to requirements of Building Code
Building & Zoning Permits included in pricing

Our reputation is known for our stable construction and quality workmanship. We don't take shortcuts just to get the job done. We take our time to ensure it is not only build to code, but supersedes the expectations for attractiveness and safety in our construction design for rigidity. Handrails commonly 2x6, are relieved by edge-routing not only for the finished appearance but to make them more comfortable to grasp.
---

contact:
Pete Hanson - Owner
Northwoods Construction and Services
Atlanta, Michigan
(989) 785-2256
~ Licensed and Insured ~

email:
nrthwds@ElkCapital.net

call or email now for your FREE ESTIMATE