---


It's pickin' season for
BLUEBERRIES!
(update 8/7/14)
~ ~ ~

We're on the schedule in spite of loosing around of month of Springtime weather. Though we've not had too much rain, daytime temps have been on the cool side that appears to have given the blueberries and huckleberries good growing conditions. We're having a heck of a 'bumper crop' this year with abundant picking. Alot of plumpies on the vine Not many over-ripe or dried berries on the bush yet and there still are quite a few upripe berries yet to ripen.

Season started for the early pickers around the 2nd week of July. There looks like a good 2 weeks left of easy picking by the looks of a suprising number of green berries yet to ripen on the bush.

Because blueberries are also favored by bear, be alert for the non-typical moment of an encounter. "Bear Bells" can be worn to minimize the chances of an encounter with bear while picking alone.

---

Sad Note ~

If you haven't seen or heard, there has been a disheartening amount of tree "harvesting" around Northern Michigan and if you get to your favorite picking spot and it's still there, be thankful. Click HERE for an image for the area where the pictures (below) were taken.
Come on out into the real world
and tickle your tastebuds with Natures Candy!
.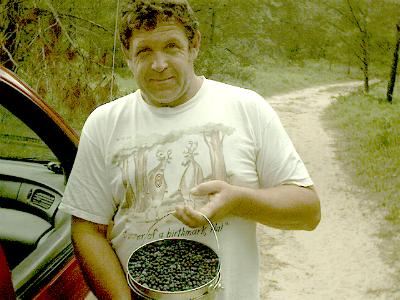 WHERE TO FIND THEM - WHAT THEY LOOK LIKE:
This region generally hosts a huge selection of BlueBerrie pickng grounds on various State Land locations.
Matured Jack Pines, Red Pines and Austrian Pines are an indicator species where underneath and around them you'll find the low bush blueberries covering the ground in a blanket of green. There are plenty of area's practically void of most other plant species (like ferns) because of the shade created by heavily wooded pines. It's here where you will find some of natures tastiest candy!

HuckleBerries and BlueBerries grow together and are distinguished by their color and taste as well.
HUCKLEBERRIES are much darker in color,, almost black in appearance
BLUEBERRIES are a light 'sky blue' in appearance and the leaves of the bush are a tad lighter color of green than their cousin the huckleberry.





CLEANING & STORAGE:

For immediate eating, clean up your berries berries by dumping them in a large pot of cold water. Most the stems, leaves and even the green berries will float, making it easy to scoop out the nasties. Then pour into a collander and allow to drain thoroughly.

Another method for cleaning the berries submitted by a resident local "Runing Moon"is to simply lay out a wool blanket and pour the berries on it. Carefully lift one end and lightly shake it to roll the happy berries down into the collection pan. This will separate the twigs, leaves and sand as they stick to the wool of the blanket.

If you don't wish to can them or eat 'em right away, they do hold much of their flavor if frozen properly. Place cleaned berries into glass or plastic containers and just be sure to 'push' the excess air out by pressing in the center of the container lid while closing it up tight. I don't advise washing them prior to freezer storage as this may result in "ice-clumping" if they aren't thoroughly dry. By not washing the berries, they'll not stick to one another, thus making it easy to scoop or pour out the frozen berries at your desire all through the winter. Storing the berries in zip lock or plastic baggies can be quite risky as they will be vulnerable to flavor loss and freezer burn during long-term storage.

Nothing like enjoying the sweet tastes of summer eating blueberry pancankes with maple syrup for Christmas breakfast! Wink at the snow as you enjoy the Yummmmmmm!!!




---


While out picking, respect the source of your tastebud delights
as not to damage the bushes or the remaining green unripened fruits
as so they can continue to grace us with the tasty delights
in abundance for years to come.


---
Be it blueberrie muffins, pankcakes, over cereal or ice-cream or just by themselves! They're just plain Mmmm MMmmm Good!!! Sssshhhhh,,,, they're good FOR you too!





Check out some recipe's and 'food for thought' below.
Blueberries
and your Health

Recipe Links




---

Recent happenings had me searching through the data base of this internet when low and behold, I discovered that these tasty little treats are much more better than just in the tastebuds.
Blueberries are called what is an 'antitoxidant', a sort of oxygen delivery vehicle.Note: Cancer loves sugar, and hates oxygen!.
Fruits and vegetables are the good stuff we need to heal up, clean and wipe up the crud we seem to accumilate in our modern diets of chemicals, dyes and who knows what else they stick in our food & snacks.

---

These findings aren't new by any means of the word except to that of my own personal data base in my noggin'. Its been this way for all of the plants and herbs that grow here and around the world. It is just up to us to learn to use them as they were intended by our Maker.

Enjoy the Links I've got here for you.
From yummie recipe's to scientific information on the importance of these sort of fruits in our diet to combat and prevail over cancer, prevent and or inhibit symptoms passed off to aging such as motor-skill loss and memory.
We need as much help as we can get since these and so many other 'animals' out there such as depression, anxiety and stress that are constantly gnawing at our lives.

Eat smart, live good, and savour every smile that comes from that delightful feeling when you relish the tastes of Natures Candy.

BLUEBERRIES HELP YOU KICK BUTT ON CANCER AND OTHER AILMENTS
Antioxidant Capacity and
Health Benefits of Fruits and Vegetables

Blueberries, the Leader of the Pack
by
Ronald L. Prior, Ph.D.

USDA Human Nutrition Research Center on Aging at Tufts

---

Fight the enemy with KNOWLEDGE!
Cancer Related Links
Alternative & Conventional Reference and support for victims and their loved ones

---


Alternatives to
Pharmeceuticals
(always check with your professional)

---


Antioxidant Capacity, Vitamin C, Phenolics, and Anthocyanins after Fresh Storage of Small Fruits.
Wilhelmina Kalt, Charles F. Forney, Antonio Martin, and Ronald L.
Prior. The Journal of Agricultural and Food Chemistry. 1999, 47,
4638-4644.

....

NorthernWudzman's
Banana-Blueberry Pancakes!


---

start with the batter, either from scratch or quick-fix (mix it a little drier than normal. The blueberries & banana will add moisture to it)
add (1) over-ripe banana (smoosh it up first to a paste-like mush)
add 1-2 drops pure vanilla extract (optional)
mix it up real good
then, add a bunch of blueberries (either frozen or fresh) - - STIR up until blueberries area dispursed evennly within the batter.

Pour onto griddle or fryin' pan into various shapes and sizes.

---


NorthernWudzman's
Blueberrie/Peach Dump Cake
(Mock Blue Banana)

Use a rectangular cake pan - ungreased
Dump a can of sliced peaches including da' juice
Dump about 1/2 cup to 3/4 cup of sugar in, and mix it allll up. / spread out evenly
Dump about a pint or two of huckleberries 'n blueberries on top and spread out evenly
Sprinkle a box of white or yellow cake-mix evenly over da' berries.
Cube up a stick of butter an toss 'em over the cakemix somewhat evenly
Dump a bunch of crushed walnuts atop the cakemix 'n butter,, spread evenly
Bake at 350F for about an hour and 15 minutes 'then remove and allow to cooool
Great as a hot topping over vanilla ice cream!!!
Grab up a bunch of friends and become gluttons for the evening. You'll have fun trying to convince them there isn't a bit of banana in the ingredients.

---

NorthernWudzman's
Cool Blueberry Treat
Graham Crackers, Blueberries and Milk
Just dump in a bowl with a tad of sugar
and a couple dashes of cinnamon.

Holy Smokes! Is this goooood!!!

---


Sarah's
PineApple-Cherry Dump Cake
same as the description above except replace the peaches with pineapple, and the blueberries with cherry pie filling.

---

Rich in natural blue antioxidants, Wild Blueberries deliver as much antioxidant power as five servings of other fruits and vegetables. Just 1/2 cup a day has more of what your body may need to help fight cancer, heart disease and memory loss from aging. And remember, Frozen Wild Blueberries are healthy, delicious and easy to use right out of the freezer.
Quoted from

5 easy ways to serve blueberries
---
Mildred Trueman's
Blueberry Bang Belly
Page
(Recipe's from New Brunswick Blueberrie territory!
Yummmmmm!)


---






If you don't have a cabin, or friends to shack up with the following
motels and lodges can accomodate you here in Atlanta
Atlanta Motel 989-785-4509
WinSans Motel 989-785-2337
Elk View Cabins 989-785-4896