updated:
August 21st, 2014
Montmorency County
Trail Conditions
Atlanta, Hillman & Lewiston Michigan
Trail Conditions Report
for Labor Day Weekend

---
Low or No Dust
Chance of precipitation for Friday
Saturday & Sunday sunshine
Monday a chance of thunderstorms
_________
Atlanta Gas Price
as of 8/21/14
$3.57 for 87 octane
As of 8/21/14
Crude Oil closed at $97.50 / barrel

The petroleum industry and their
share holders thank us
for our loyal support.
Our gift that keeps on giving!



---

Should this Trail Report not be updated
when you visit this page, check out the National Weather Service site out of Gaylord for the Atlanta area 7-day forecast to see what's in the immediate forecast as well as current weather conditions.

---

---

Update - 8/21/14

Trailways are dry
and basically puddle free. The weekend calls for some chance of precipitation Friday and Saturday. That could mean just sporadic drizzle.

For continual updated forecast visit the link below

7-day forecast from NOAA out of Gaylord

Blueberries have passing peak season and are still yielding some good finds, raspberries soon to follow. Blackberries are hit and miss with some good finds in the 'hits' areas.
The new work week should hang on to the 70's in the day with some chance of rain to return around Thursday.

The critters are loving summer bounty too, so keep the eye's peeled on the roadways especially at dusk through the dawn hours.

SLOW DOWN - There are plenty of new kids that don't move as cautious as their parents. Give 'em a chance at their new life..

Tick numbers are down but keep your eye's peeled coming in from the woods. They like to hang out on the tips of the grasses and branches to hop on to their next ride on the lunch wagon.
Do the tick check whenever you come in from the woods or even just putzing around in the yard.
Freddies Family Market, the Atlanta Vet and the Atlanta Hardware have Tick Juice and Tick key pullers to help thwart the invaders. Research Tea Tree Essential Oils to get back at those ticks.

Ticks are relatively new to this neck of the woods (about 7 years now) but it's looking like we may as well get used to it. Adapt to the new norm while enjoying our great north woods.
---
---
Visit NOAA's
Summer Weather
Briefing Page
for a bunch of info, forecasts, maps, satellite & radar and every aspect of weather and climate you can think of.
---
Any significant changes in conditions, the Trail Report will be updated as warranted.
---

For constant Updated Animated Radar Images to see where snow clouds are headed click HERE

(Animated image from accuweather.com)

---
ELK VELVET ANTLER EXTRACT
Nutritional Supplements

Click HERE for components of VELVET ANTLER. It's in there!

If you are in town, stop over at the

Atlanta Hardware
(989) 785-5281

Elk Velvet Antler Extract $25,
Elk Velvet Antler Skin Lotion $20,
Elk Velvet Antler Sports Cream $20
Elk Velvet Antler Pet Revitalizer (with Elk Liver) $20

All the above products are produced from the elk raised at the Rose Lake Elk Ranch here in the U.S.A.
(www.RoseLakeElkRanch.com)


also in Hillman is the
Thunder Bay Resort
989-742-4502
They keep a selection of Antler Velvet supplements derived from the Red Deer raised in New Zealand..

Consider all the minerals and nutrients the elk uses to get those antlers so flippin' huge and strong in a manner of mere months. These minerals and nutrients help the body cope with arthritis, sore joints and muscles, growth factors for bone and muscle health.
From those living with aches and pains to body builders and sports junkies, it's in there!
Side effects of Elk Antler Velvet usually appear in Autumn which may include growing antlers, an urge to bugle, scrape the ground and head butt any thing or any body that comes near your harem. A slight inconvenience but they do fall off in the spring.

Listen to an Elk Bugle -
If you hear this in the woods and it is sure to send chills down the spine.
---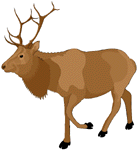 check out the past
2013 Atlanta
Elk Pole Contest!
always the first two days of the winter hunt
December 7th & 8th, 2013
Heaviest Elk this year was a 6x7 665lb Bull !
The only public
Elk Pole Contest
in Michigan!
www.ElkCapital.net/events/elkpole2013

---
For pics of critters you might see in these parts, check out our
Critters in the North East
Woods of Michigan
.


Get next to nature,
and get next to your "self"

.

Pick up a Montmorency Tribune for full calendar of events

Experience Life.
Northern Style!
.

For current weather and projected forecasts for the Atlanta,
Hillman and Lewiston area, check out
Local Weather & forecast
from NOAA in Gaylord
- includes updated Snow Depth Maps of the northern Michigan and the U.S.


County Maps
(with some trail marks)
available at the
Montmorency County Tribune
989-785-4214
and many business's in town


SNOW MOBILe
& ATV/ORV SERVICE
at
Atlanta Auto Repair
12383 State Street
Atlanta, MI 49709
989-785-4647
visit their web site!
www.atlantaautorepairmi.com
SNOW MOBILE RENTALS
-----
Ehlers Snowmobile Rental
(Atlanta)

* Area Snow Mobile Clubs *
Lewiston Fun-One's
989-786-5414.

---
.
Local Lodging
Central Montmorency County
(Atlanta)
A-Win Sands Motel
989-785-2337

Atlanta Motel
989-785-4509

Elk View Cabins
(Elk Shed hunting and Elk tours)
989-785-4896

Timber Lodge Motel
(989)785-3339

---
(Lewiston)
(Hillman)
Browns North Shore Resort
(989) 742-4166)
---
---
Food & Drink
Thunder Bay Deli
Downtown Atlanta on the trail easement north of M-32 before the Haymeadow Creek bridge crossing
M-32 North / Downtown Atlanta
989-785-3700

- El Bo Inn -
24300 M-33
between Atlanta and Onaway.
989-785-4713
www.elboinn.com

- Talley's Log Cabin
/ Downtown Lewiston
989-786-2011

- Chauncey's Pub
121 N. State St./ Downtown Hillman
989-742-3282
---


Gillian's
Sno Drift Resturant
A taste of the Southwest - UP NORTH!
Mexican & American Cousine

-Catfish Friday's
-Taco Tuesday's

11839 M-33 North
Atlanta, MI 49709
989-785-0122

The Baklava Shop
Home made Bread, Deserts,
Donuts, Pastries, sandwich wraps and more.
12619 State St.
(across from post office in town)
Atlanta, MI 49709
989-785-5438
Call ahead for large or special orders!

Elk Crossing Cafe´
Downtown Atlanta
12429 State Street (M-32)
989-785-2233
open at 6am
Breakfast specials, lunch & dinner
from donuts to Elk Burgers!

---
Restaurant Listings
from the Sno*Drift website
click
HERE
.
Souvenir's Gifts
(Atlanta)
--
Freddies Family Market
989-785-5723
--
North Woods Gallery
& Coffee House
989-785-4650
---
Atlanta Chamber of Commerce
(Located at the SW corner- downtown)
(989) 785-3400.
Snow Mobile &
Fishing Conditions
for the
Fletchers Floodwater area
click HERE
Shower Facilities
~
the Laundry Basket
Coin Operated Laundry
~
Laura's Hair Salon
~
Flower Shop
Located across from Eager Beaver Mini Storage
just north of downtown Atlanta