11/30/06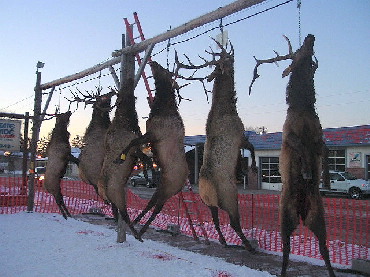 .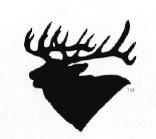 Atlanta Chamber of Commerce hosted

.

2005 Elk Pole Contest
.
Tuesday/Wednesday - Dec. 6th & 7th 2005
Located in downtown Atlanta
the Elk Capital of Michigan!
.
2005 Elk Pole Contest Results
#
Time
in
Hunter
Hometown
Age
Sex
Weight
Contest
Placement
Tuesday 12/6/05
1
12:01pm
Eric Haueter
Grand Ledge
21
Cow
340
1st Cow In
Trophy, Wood tissue box
cover w/ elk in woods carving
2
12:30pm
Keith Wachter
Munising
53
8x7 Bull
590
1st Bull In
Trophy, Antler Framed Mirror
3
12:59pm
Edward Chupp
Sturgis
52
7x6 Bull
585
.
4
1:15pm
Jeff Ash
Owasso
34
6x6 Bull
525
.
5
1:58pm
Bret Griffis
Jerome
46
6x6 Bull
620
.
6
2:55pm
Harold Cashin
Midland
82
6x6 Bull
560
Oldest Hunter
Trophy
7
4:00pm
Keith Kelly
Taylor
40
5x4 Bull
580
.
8
5:30pm
Caleb Pierson
Temperance
15
6x7 Bull
640
Youngest Hunter
Heaviest Elk
(2) Trophies, $100 check,
bone handle collectors knife,
Atlanta elk paperweight
Wednesday 12/7/05
9
10:58am
Leo Fink
Lincoln Pk
55
7x7 Bull
600
Largest Rack
Trophy, 50 cal. Black
Powder Muzzle-loader Rifle,
2 1/2 lb. Big Bull ground Coffee
10
3:45pm
Ken Datte
Jackson
.
6x6 Bull
605
Late Arrival - did not hang
36" spread / 48" beams
M-32 Supply
10799 M-32
Atlanta, MI 49709
989-785-5852
---
Unique Gifts
Batteries & Cables
Tools, Tarps and more!

Trophy & Awards for:

1st Bull Hung on Pole
1st Cow Hung on Pole
Largest Rack (Grand Prize Winner)
Heaviest Elk (DNR weights are final)
Youngest Hunter
Oldest Hunter

Big Buck Bean Coffee donated by
North Woods
Coffee House Gallery
Downtown Atlanta
* Variety of freshly roasted coffee
~ beans & brewed
* Fine Paintings of Nature
* Evening Coffee and Live Entertainment
(989) 785-4650

Eric Haueter won the trophy and Elk Tissue Box prize for bringing in the first cow to be hung

Hap Battery ,
M-32 Supply and the La Fi Corporation helped
in making available the
Elk tissue box cover,
the Antler style framed mirror and the Elk paperweight.


Keith Wachter brought in the first bull that won him a trophy and an antler framed mirror


---


Prizes from the gift shoppe at M-32 Supply, west of Atlanta.

Largest Rack prize is presented
to Leo Fink by
Malcomb , president of the
Atlanta Buisiness Owners Association


.50 cal. Black Powder Muzzle Loader Rifle prize was made possible by donations from the ABA, EJ Paul Insurance and from Ray's New and Used Guns.
Thank YOU!

---

Ray's New & Used Guns

22000 Behring Rd
Hillman, MI 49746
Phone (989) 742-4226
Fax (989) 742-2085
email: rbanks@racc2000.com

$100.00 Check for
Heaviest Elk prize made available by the Atlanta Chamber of Commerce

Rick Ferguson presenting Caleb Pierson with $100.00 check and trophy for the Heaviest Elk
------------------------
Youngest Hunter Prize

Bone Handle Collectors Knife
---
Oldest Hunter Prize

Elk Collectors Pocket Knife


---


Knife prizes made possible by contributions from Nancy LaFrance

™ Atlanta's Elk Pole Contest is
hosted by the Atlanta Chamber of Commerce
A sincere thanks to all of those for their generous contributions that made available the prizes for the 2006 Elk Pole Contest here in Atlanta, the Elk Capital of Michigan!

2005 Elk Pole Contest Prize Donators
Largest Rack Grand Prize was a 50 cal. Black Powder Rifle was made possible by a discounted price from Ray's New & Used Guns and donations contributed by those in individual & joint memberships with the Atlanta Business Owners Association and the Atlanta Chamber of Commerce including EJ Paul Insurance, El-Bo Inn, Engleharts Auto Salvage, Ehlers Auto Sales, McLaughlin & Associates Real Estate, PC House Doctor and Northwoods Services & Construction.
$100.00 cash prize for the heaviest elk donated by the Atlanta Chamber of Commerce.
Elk collectors pocket knife, Bone handled bowie knife, Elk paper weight, Decorative Elk Tissue Box Cover and Antler Style Mirror made possible by contributions from Ellen Turkovich, Nancy LaFrance, M-32 Supply & the LaFi Corporation.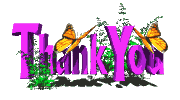 .

A very special thankyou to father & son, Gordon and Rick Ferguson (picture at left with 3 trophies!) for the years of running the elk pole. Rick is the Elk Pole Mayor but will deny the glory. Gordon uses his loader and boom to hoist the huge elk from vehicle to pole and back. He even camps out beside the elk pole just to be near 'em. He loves 'em that much.
Rick had orchestrated our new electrical service for the Atlanta Chamber. Until this year, Larry Samp of State Wide Real Estate had allowed us to not only use his parking lot for the event, but also his electricity. (Of which we blew many a breaker over the years)

Also a warm Thank You to De-J's Cafe for providing hot meals for the pole workers. Judy and staff have made a wonderful difference to the pole workers for several years now. Nothing like some fine hot eats to ward off the chill from old man winter.

Last, but certainly not least an appreciative thank you to Mike (last name withheld for witness protection) for helping out hang and takedown the elk. He gave Rick a break from cruizin' up and down the ladder for both days of the contest. Thanks muchly Mr. Mike!


www.ElkCapital.net
© 2002 - 2012 NorthernWudzman

Email:
NorthernWudzman@ElkCapital.net

Please support our
local Commerce

www.atlantamichigan.com
Atlanta Chamber of Commerce
(989) 785-3400
-
Lewiston Chamber of Commerce
(989) 786-2293
-
Hillman Chamber of Commerce
(989) 742-3739